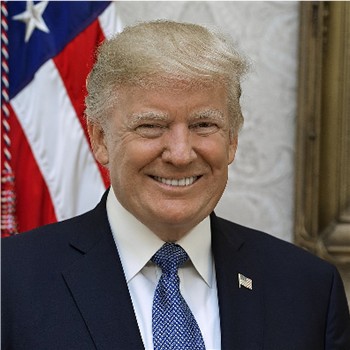 Donald J. Trump, 45th President of the United States
BEDMINSTER, NJ — On Friday, June 23, 2023, Donald J. Trump, 45th President of the United States and 2024 presidential candidate announced his initial Pennsylvania Federal Leadership Team, comprised of distinguished Patriots who represent the Commonwealth of Pennsylvania and the U.S. with honor.
In 2016, President Trump carried all 67 Counties in the Presidential Primary, and, in November 2016, he became the first Republican in 28 years to win Pennsylvania in the Presidential Election.
During his Administration, President Trump enacted an agenda that led to economic prosperity for Pennsylvania's working families, unprecedented growth across Pennsylvania's energy industry, and the protection of Pennsylvania values.
President Trump is looking forward to working with this team to build a coalition of support that will compete for and earn the support of Pennsylvania's Delegates to the Republican National Convention and win Pennsylvania's 19 Electoral Votes next November.
Trump 2024 Pennsylvania Federal Leadership Team
Congressman Mike Kelly, U.S. Representative from Pennsylvania's 16th Congressional District,
Congressman Dan Meuser, U.S. Representative from Pennsylvania's 9th Congressional District
Congressman Scott Perry, U.S. Representative from Pennsylvania's 10th Congressional District,
Congressman Guy Reschenthaler, House Republican Chief Deputy Whip and U.S. Representative from Pennsylvania's 14th Congressional District,
Congressman John Joyce, M.D., U.S. Representative from Pennsylvania's 13th Congressional District,
Congressman Fred Keller, Former U.S. Representative from Pennsylvania's 12th Congressional District,
Ambassador Carla Sands, Former U.S. Ambassador to the Kingdom of Denmark